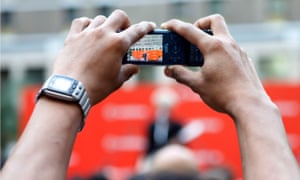 If it were five years in the future, would you be reading this article or would you be watching it? As online video continues its inimitable rise, it's an interesting question to ponder.

With online video quickly becoming a key means for people to satisfy their information and entertainment needs, small businesses that fail to include it in their internet marketing strategies will do so at their peril.

show more than half of companies are already making use of the medium – a figure that's predicted to rise as more and more realise the possibilities. Nielsen claims

– that's a weekly audience of more than 20 million people in the UK alone. Video can give you access to all this. Video done well can give you a slice of it. What other form of content can do the same?

, for example, saw a trio of its videos viewed a combined 155 million times. If such numbers seem out of reach for companies without 12-figure revenue streams, they at least demonstrate video's inherent shareability. Engage viewers and they will share the video with others. They will spend longer on your website and more time interacting with your brand. For any social media campaign, any SEO exercise, video is without doubt one of the best tools in the kit.

Curated from Why online video is the future of content marketing |Creative Video Production Company
This Guardian article has some great advice on how to make the most of video in your marketing strategy. But for me, the most important paragraph was this one:
"be creative, not only with the videos themselves but in the campaign strategy you build around them. As my head of marketing likes to say, creativity wins over the cost of production every time. Get that bit right and video won't just be the future of content marketing, it'll be the future of content marketing for you."
If you put a bit of thought into it, you can make a huge difference to your reputation with video. As an example, we helped to make a video for the NASUWT teachers' union, called "Gove vs Reality". It was a political message, calling the then Education Secretary out on some of his claims. This video gave the union real teeth – it showed that they knew their stuff on education better than a government minister, and weren't afraid to say so. Teachers were delighted that one of the unions was showing that it wasn't afraid to take on the political establishment, which was seeking to attack and degrade their reputation as professionals. It won them great support amongst their members, who felt they were being well represented. Have a look at Gove vs Reality.
Now think about how you want your customers to think about you, and get in touch. We pride ourselves being a creative video production company, producing really creative video within your budget – and if you haven't commissioned video before, don't forget to ask for a copy of our free leaflet – Top Tips for Commissioning Great Video.